Customer-oriented services from a single source
The performance spectrum of ABK is characterised by innovative performance diversity. The various pillars for the provision of operational services interlock thematically and thus generate great advantages for our customers. The services can be offered from a single source, which noticeably simplifies your daily processes and procedures.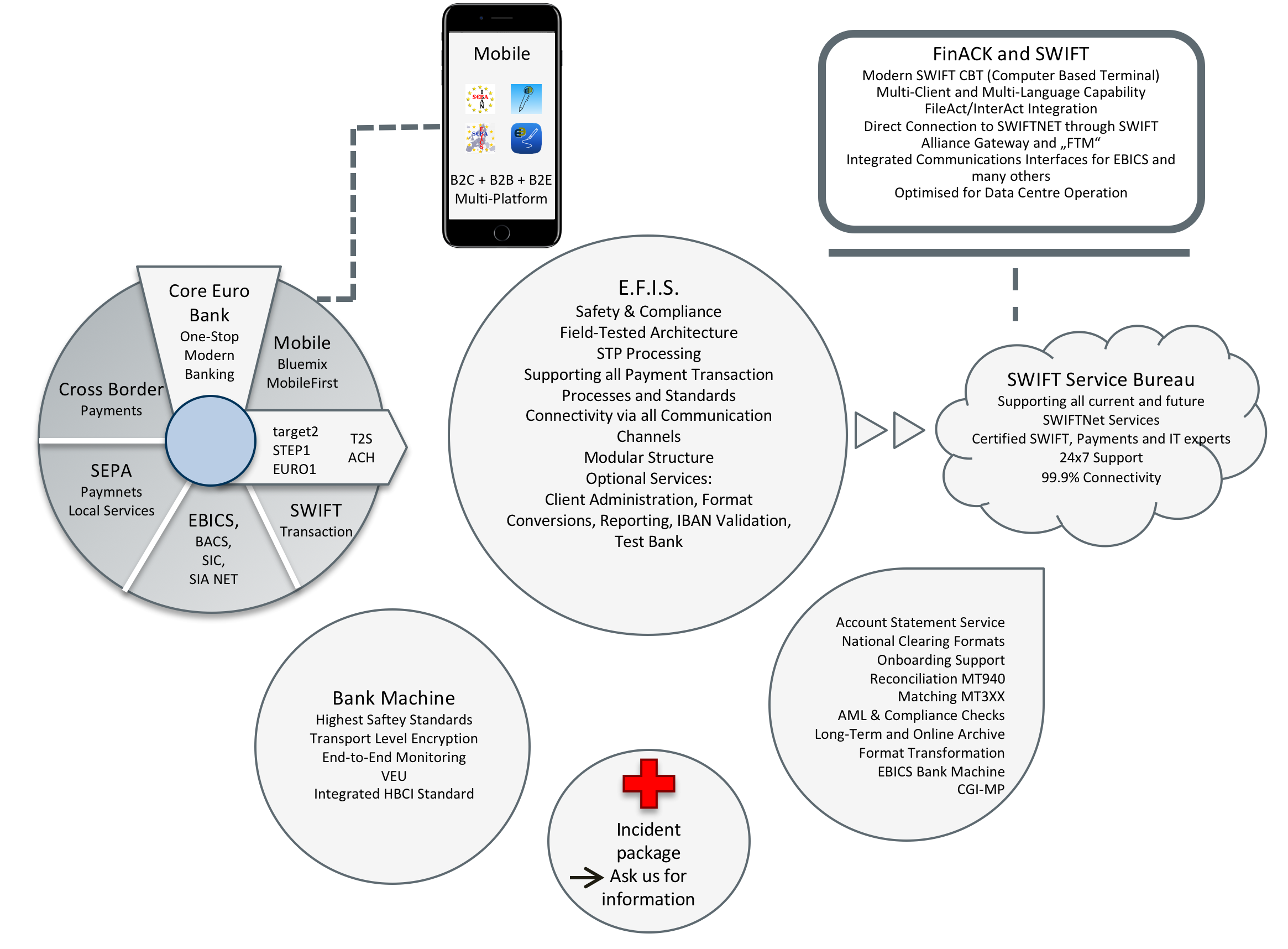 Core Euro Bank
Renowned international corporations and SME's use the EFiS Core Euro Bank as a smart and user-friendly web application in the service, which consolidates and centralises the entire payment transactions and cash management of a corporate as a payment factory with integrated booking engine. This enables corporates to serve and monitor all their national and international bank accounts and accounts from a single system. This ensures complete and convenient control over your entire cash flow on all accounts and in all currencies.
Thanks to the integrated accounting and account system, an in-house bank can be implemented in a further step.
EBICS
State-of-the-art in electronic data exchange. Not only in payment transactions!
The Electronic Banking Internet Communication Standard, EBICS for short, is an open standard for web-based data exchange between banks and their business customers.
With multiple encryption of the transmitted files at transport level and the possible use of a multi-level signature concept, the Distributed Electronic Signature (VEU), EBICS is based on the highest security level currently achievable. In addition, thanks to the use of internationally used standards such as HTTPS, XML, TLS and ZIP, the process is highly compatible and can be implemented by corporates themselves in their own software products on the basis of a public specification. In addition to its own EBICS client, EFiS has also developed an EBICS server/bank computer, which is used by well-known corporate customers of the DAX 30 corporates.
FinAcc
The next generation of SWIFT access
Financial Access Knowledge Management, or FinAcc for short, is a SaaS solution that enables all ZV-relevant MTs to be processed via SWIFTNet.
It includes a modern SWIFT CBT (Computer Based Terminal) and a direct connection to SWIFTNet via SAG (SWIFT Alliance Gateway).
Seamless integration with the E. F. I. S. Transaction Platform improves software distribution and management. Basic functionalities such as the VEU or the principle of dual control can be used.
Target market
FinAcc can be used as a solution for backup or production. Small to large banks and corporates with low to very high SWIFT volumes will find a clear and efficient product that meets all requirements of SWIFT connectivity on a secure and highly available infrastructure.
Frontends
In order to achieve an efficient business workflow, we offer you the possibility to choose between different frontends, which can be customized and combined. With JBENIX, we offer you a powerful workstation as a Java application, which you can use locally or in our service department. Detached from the software, we offer WEBENIX as a platform-independent web client. For the mobile use of our services, we offer you with IBENIX the possibility to execute actions on your mobile devices.
Mainframe meets mobile:
A combination with potential
ABK – The software forge of the Paymentgroup
FinTech has been permanently present for our customers for 30 years. Exploiting the business potential of mobile devices: In the traditionally conservative financial industry, IT trends are opening up new business potential. Mobile apps are becoming increasingly popular with corporates to serve new customer segments and needs and generate additional benefits. Then innovative medium-sized corporates are needed who develop meaningful extensions at their own risk.
Transaction Platform
As a central payment processing center, our Transaction Platform paves the way for our customers' payment transactions, which are sustainably geared to the future. Thanks to its modular design, it is extremely flexible and can meet individual customer requirements extremely efficiently.
With its scalability, the highest security standards and compliance requirements, the platform meets the high expectations of corporates and banks.